SOLD - STUDER G S35 with NEW Siemens cnc AUTOMATIC B AXIS +/-8.5 DEGREES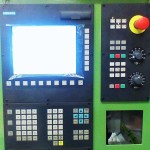 CNC External Grinder retrofitted with new Siemens control to enable dressing left/right side of wheel, iso profiling of wheel, active length positoning, wheelhead swivelling +/- 8.5 degrees, Wheel diameter 500mm, centre height 175mm, between centres 1000mm – Price on Application THIS MACHINE IS SOLD BUT ANOTHER ONE IS READY SOON
——–MACHINE AVAILABLE TO END USER CUSTOMER ONLY———
• AXIS: 4 (X-Z-C-B)
• "C" AXIS: CONTINUOS + HAS ONE FIXED STOPPING POSITION
• "B" AXIS WHEELHEAD: +/- 8.5 DEGREES IN AUTOMATIC
• YEAR: 2018 RETROFIT AND REFURBISHED (BUILT 1989-1993)
• CENTRE DISTANCE/HEIGHT in mm: 1000/175
• EXTERNAL WHEELS: ONE
• DIAMETER OF WHEELS in mm: 500
• FREQUENCY CONVERTOR FOR EXTERNAL WHEELS: NO
• INTERNAL WHEELS: NO
• GRANITAN MACHINE BASE: YES
• LP (LENGTH POSITIONING): YES
• IPG (IN PROCESS GAUGE): OPTIONAL
• TAPER CORRECTION ON TAILSTOCK: YES
• HYDRAULIC TAILSTOCK: OPTIONAL
• COOLANT TANK: YES
• AUTOMATIC WHEEL BALANCING: NO
• PRODUCTION READY: YES
• LOADER: NO
• INSTALLATION: AVAILABLE
• ONSITE OPERATOR TRAINING: AVAILABLE
• OPTIMISATION CUSTOMER PARTS: AVAILABLE
• SERVICE AVAILABLE: YES
OTHER SERVICES AVAILABLE:
• USED STUDER CNC MACHINES FOR RENT (IN GB AND ITALY).
• USED STUDER CNC EXTERNAL/INTERNAL CYLINDRICAL GRINDING MACHINES FOR SALE
• WE BUY – SELL – RENT ONLY STUDER MACHINES LIKE STUDER S35, S36 FAVORIT, S40CNC, S20CNC FAVORIT, S21, S31, S25, S33, ECO 650, S30 LEAN PRO, S145, S20-2, X S36
WE OFFER INSTALLATION and STUDER SPECIALIST OPERATOR TRAINING ONLY ON STUDER GRINDING MACHINES with MARPOSS, MOVOMATIC IPG WITH CNC CONTROLS SIEMENS 3G or GROSSENBACHER S35 or FANUC TB and FANUC GCA
**STUDER EXPERIENCE ON STUDER MACHINES SINCE 1980**
STUDER CNC TRAINING, USED STUDER GRINDING MACHINES FOR SALE AND WANTED
——–MACHINE AVAILABLE TO END USER CUSTOMER ONLY———
PLEASE SUBMIT FULL COMPANY DETAILS, ADDRESS AND YOUR GRINDING NEEDS EXAMPLE: GRINDING EXTERNAL OR INTERNAL OR BOTH, BATCH SIZE, TOLERANCE, BUDGET AVAILABLE OR MAKE OFFER FOR THIS MACHINE,
"INDEPENDENT CONSULTANCY ON STUDER MACHINES"
………………………………………………………………………………………………………..
AFFITTASI O ACQUISTO RETTIFICATRICE CNC IN TONDO USATE PER ESTERNI – INTERNI – UNIVERSALI TIPI: STUDER S35, S36, S40CNC, S20CNC, S25, S33, ECO 650, S30 LEAN PRO, S145, S20-2, S31, S21
STUDER ADDESTRAMENTO, STUDER INSTALLAZIONE, STUDER CONTROLLO GEOMETRIE, STUDER MANUTENZIONE, STUDER CORSO RETTIFICHE
ESPERIENZA STUDER DA QUASI 40 ANNI E` LA VOSTRA GARANZIA..
WE BUY/SELL ONLY SELECTED STUDER MACHINES DIRECT TO/FROM CUSTOMER AND OFFER INSTALLATION,TRAINING, SERVICE. WE ARE SPECIALIST ONLY IN STUDER MACHINES SINCE 1984.